UNDER-FEET STORAGE
Accessible via both exterior doors and inside trapdoors, the double floor offers ideal extra storage for your bulky items such as chairs, tables or even skis.
The large rear storage unit is lowered for easier loading. This storage compartment is available in 3 height options on all our LV motorhomes.
A UNIQUE LOCKING SYSTEM
Taking your essentials with you wherever you may roam is one thing, but making sure that they're still there when you get back is even more important. This is why Le Voyageur designed a locking system unique in Europe: thanks to simple visual aids, you can check whether your storage compartments are locked in mere seconds.
The double-jointed locking system will also ensure perfect air- and water tightness.
TECHNICAL EXCELLENCE AT YOUR FINGERTIPS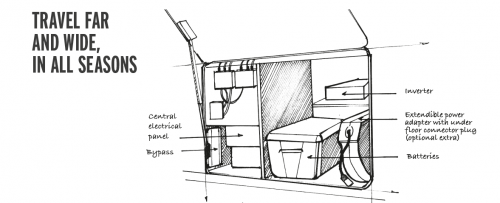 A TECHNICAL CABINET FOR ELECTRICITY
Everything is centralised for easy access to the switchboard, battery, and 230V socket. The electrical technical cabinet housed underneath the refrigerator is accessible from the outside.
The 230V connection emerges through a vent in the floor; this is practical and does not impact the insulation of the unit.
A TECHNICAL CABINET FOR WATER AND HEATING
This cabinet contains the elements of the water and heating system. Filling, pipe access and tank evacuation: everything is centralised in this cabinet. Located beneath the storage double floor, the reservoirs are frost-protected for use in all seasons.
IMPROVED CAPACITY
There is an optional Super B battery available. This lithium battery extends your existing capacity, and its quick-charge (2 hours of driving for a full charge) offers an alternative to the 230V connection.
SIMPLE, ECONOMICAL WATER MANAGEMENT
TWO LARGE TANKS
The large fresh water (200L) and wastewater (120L) tanks are fitted on the rear axle. They can be filled and emptied with ease using large-diameter tubes. Simultaneous air and water inflows allow for a better flow and faster filling.
The wastewater evacuation valve is placed inside the technical cabinet. Its frost-protection means it can be used in all seasons.
Both the kitchen and the bathroom are equipped with mixer taps with aerators. These save 20% on water consumption, meaning you can always go further with your Le Voyageur LV motorhome.