CULTIVATE THE ART OF TRAVEL…FRENCHSTYLE
Climb aboard your LE VOYAGEUR motorhome and kick-start your journey in pursuit of freedom, luxury and pleasure.
The elegance and generosity of its curves, the subtle appeal of its upholstery, and the avant-garde style of its refined, robust bodywork make your motorhome the very essence of French know-how.
UNDERFLOOR HEATING FOR EXTRA HOME COMFORT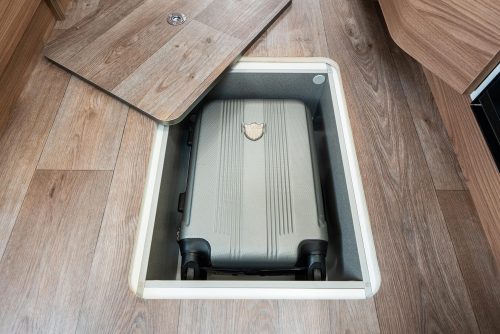 THE FLOOR
For extra home comfort the LV Eterna range has designed its motorhomes without steps, even in the sleeping area thanks to storage double floors. You can move around easily right up to the foot of the bed without anything in the way.
HEATING SYSTEM AND HEAT TRANSFER
Thanks to the use of top-of-the-range materials and special technical features, Le Voyageur guarantees optimum insulation quality in all its vehicles in the Eterna range.
Well insulated and heated, the storage double floor retains and radiates warmth just like classic underfloor heating. To retain this heat, all walls and roofs are composed of Styrofoam-lined aluminium. This results in a 30% better heat conductor than plywood.
The fleece-like fabric that lines the walls offers better thermal and acoustic insulation, as well as a cosy atmosphere for your interior.
INTERIOR DESIGN THAT ALLOWS FOR MORE COMFORT AND SPACE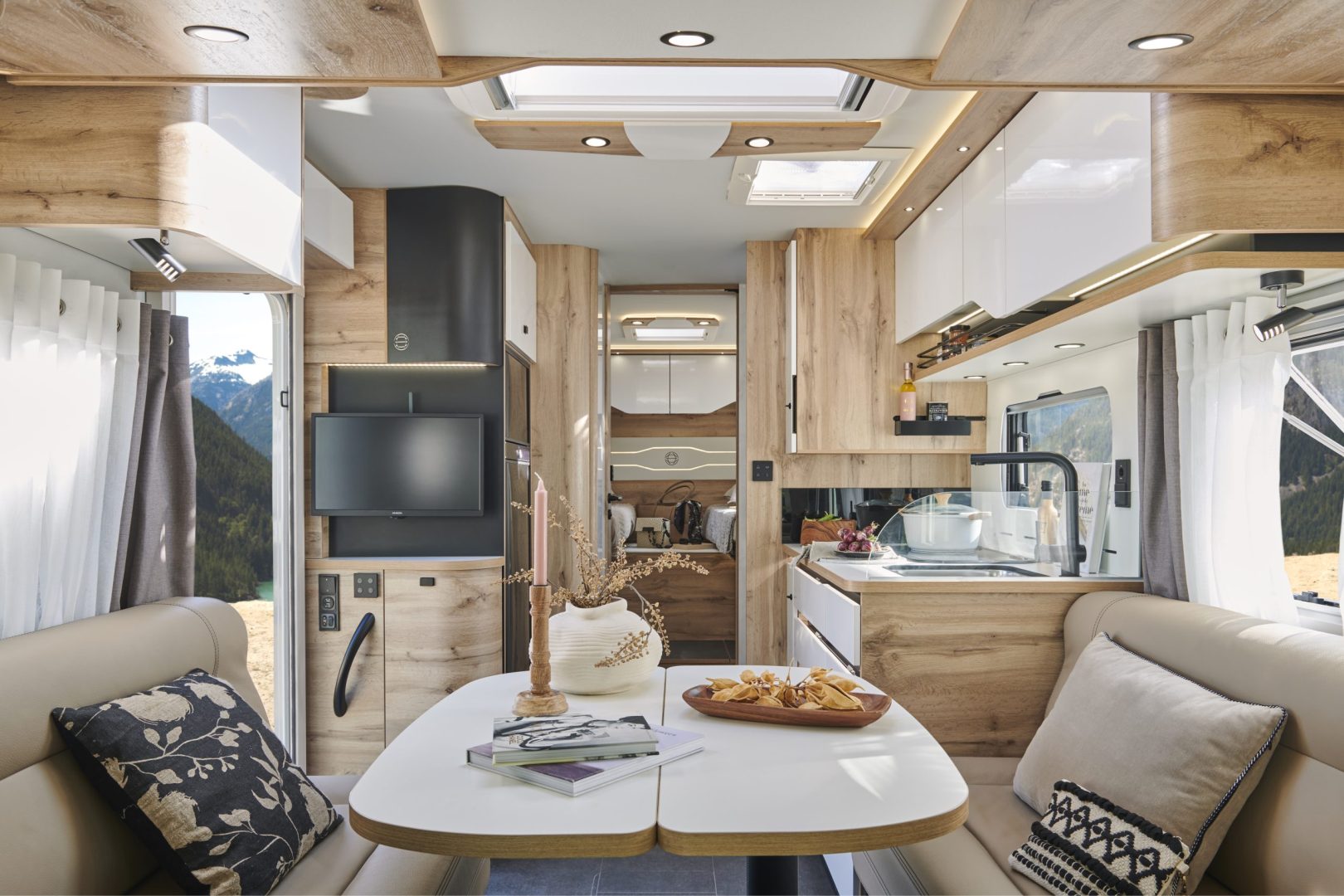 F-SHAPED LOUNGE: FACE-TO-FACE LOUNGE SEATS
With its specially designed face-to-face lounge seats, integrated into what we like to call an F-shaped lounge, Le Voyageur has truly optimised this vital motorhome area. This layout is ideal for moving around freely thanks to the central folding table that frees up a comfortable passage space between the unit and the cab. Under each bench you will find a "Jack-in-the-box"-style passenger seat, offering 4 legal seats (depending on the configuration). If there are only two of you travelling, the "Jack-in-the-box" seats can be removed to free up additional storage and load capacity. These storage units are accessible from inside and out, ideal for loading heavy items with minimal effort.
L-SHAPED LOUNGE
We also offer a more traditional L-shaped lounge layout. The L-shaped lounge comes with additional seats and can be quickly converted into a 2-seat front-facing bench for trips with four people. If you would like, there is the possibility of an optional 5th legal seat on the passenger side bench, depending on the configuration of your vehicle.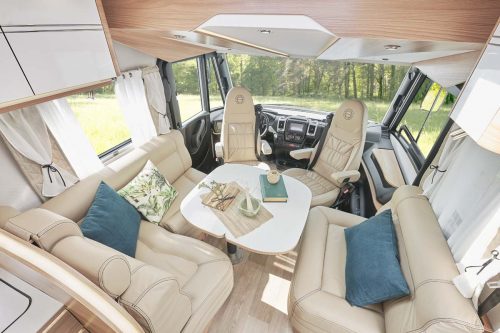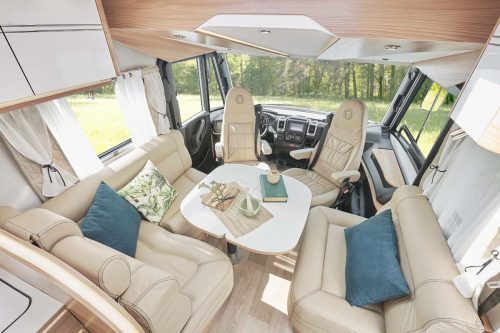 ELEGANT AND FUNCTIONAL KITCHENS
SPACIOUS AND BRIGHT
The kitchens in our motorhomes come with plenty of storage space, and benefit from our technical expertise. To make your life easier, the sink cover-lid converts into a worktop extension and draining board.
FOR A BETTER NIGHT'S SLEEP
Because we want to put the 'home' in 'motorhome', we continuously strive to offer you the highest level of comfort.
And to do so, we use the most appropriate technical solutions and source our materials from reliable partners. When you choose Le Voyageur, you'll enjoy the quality of comfort mattresses.