OPTIMAL VISIBILITY & OUTSTANDING ROAD HANDLING
Thanks to over 20 years of experience in motorhome construction, we can draw on complete technical expertise to guarantee the outstanding quality of our products. The LV range comes with a robust, well insulated and perfectly watertight structure.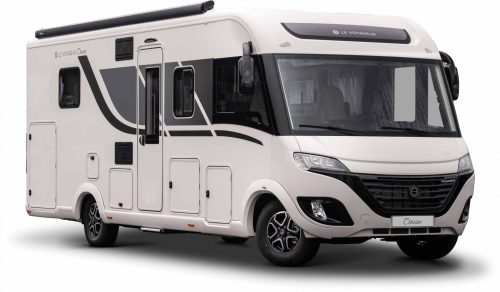 PANORAMIC VISIBILITY
With their redesigned front end, close visibility is excellent on all our LV motorhomes. The view from the driver's seat is panoramic, and the frontwards angle of vision is such that you can see a 60cm object just 2.09 metres away.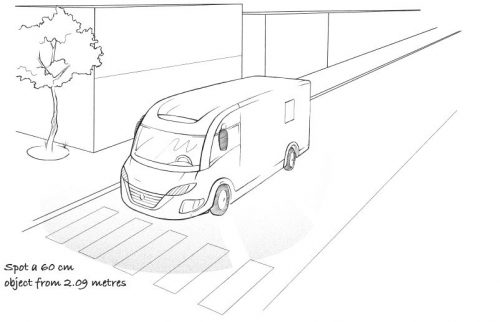 REAR VISIBILITY
Visibility towards the rear is facilitated by a reversing camera and by its screen built into the dashboard. Bus-style suspended rear-view mirrors will facilitate all your reversing manoeuvres. The additional wide-angle rear-view mirror means there are no blind spots, and you can safely overtake in all circumstances.
EXCEPTIONAL ROAD HANDLING
ROAD HANDLING
The wide track AL-KO® chassis is the high-end benchmark, offering innovative technology for greater safety and considerably improved road handling. Light-weight and low-slung, it optimises the motorhome's load capacity. Its low centre of gravity provides for the best possible comfort on the road.
COMPLETE AL-KO COMPATIBILITY
Designed to ensure high levels of comfort and safety, the AL-KO range offers a wide variety of accessories to match your style and meet all your needs.
The ALC – or AL-KO Level Controller – stabilises the rear axle at an optimal level, regardless of the load. Even if you opt for long motorhome with a long overhang, the ground clearance will remain consistent.
The full Air Premium air suspension is also fitted with pneumatic suspension on the front and rear axles. In terms of suspension comfort, it's unparalleled.
ALWAYS SAFE THANKS TO ABS AND ESP
ABS: 3-letter acronym for anti-lock braking system.  This system limits wheel-locking during emergency braking. Each wheel is fitted with sensors that calculate the speed of all four wheels and reduce braking pressure to avoid locking. ABS makes it possible to brake effectively and efficiently.
ESP: Electronic stability program which modulates the brakes and engine torque on your motorhome. If it senses that you are turning at a high speed, or suddenly changing direction, the ESP will take over and control the front and/or rear brakes. It increases or reduces your engine's RPM to ensure that you remain in control.
LIGHTNING PROTECTION
Our motorhomes are built around aluminium interior walls and roofs. Thanks to earthing through the wheels, this aluminium structure acts as a Faraday cage to isolate you from lightning strikes and conduct the electricity through to the ground. Safe in the comfort of your motorhome, you can enjoy travelling, whatever the weather.