CONSTRUCTION THAT STANDS UP TO THE ELEMENTS
Thanks to over 20 years of experience in motorhome construction, we can draw on complete technical expertise to guarantee the outstanding quality of our products. The LV range comes with a robust, well insulated and perfectly watertight structure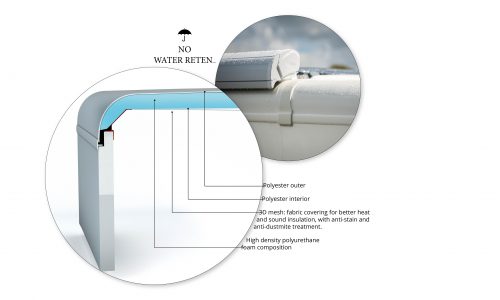 GUARANTEED WATERTIGHTNESS THANKS TO THE OVERLAPPING ROOF
Our flat roof is superimposed on the structure and covers the side walls like a "lid". This prevents any risk of leakage, ensuring that the walls are as watertight as possible.
EFFECTIVE HAIL-PROOFING
The absorption properties of the hail-proof polyester roof render it resistant to impact. It can also withstand abrasion, scratches and scruffs caused by branches.
THE WALLS
The Le Voyageur's 38mm-thick walls have been awarded Class 3 TRUMA® and ALDE® best heating rating, and are certified by our suppliers. Le Voyageur is proud of its excellent capacity to protect its users from bad weather.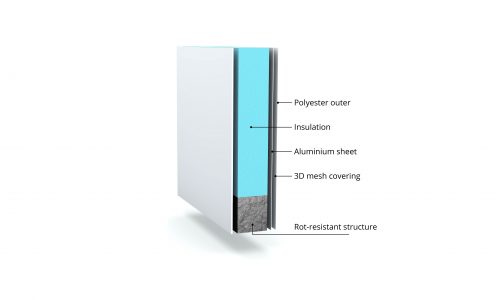 ALUMINIUM FOR BETTER DURABILITY
The unit is fitted with an aluminium structure, allowing for a stiff, solid framework. The walls, floor and roof are held together by aluminium inserts.
The skirts are also made from aluminium. Aluminium offers a double advantage: in the event of impact it will not break, and it's easier to replace if necessary.
It is also a 30% better heat conductor than plywood, making our motorhomes all the more comfortable.