TRAVEL FAR AND WIDE, IN ALL SEASONS
Accessible via both exterior doors and inside hatches, the double floor offers extra storage for your bulky items. Well insulated and heated, it retains and radiates warmth just like classic underfloor heating.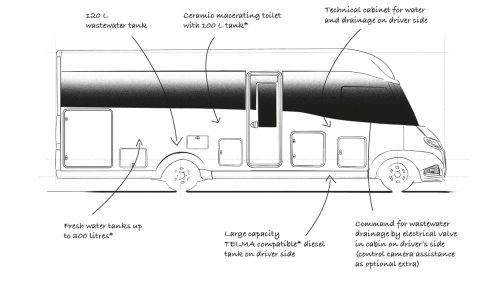 LARGE, CLEVERLY DESIGNED STORAGE SPACES
STORAGE
When buying a high-end motorhome, you expect it to have high-end features. Signature meets the most demanding expectations by offering exceptional storage space: a 1 tonne minimum payload for the entire range.
The rear garage bay measures 116 or 128 cm high depending on the layout and large doors with casement-style opening have been especially designed to facilitate loading.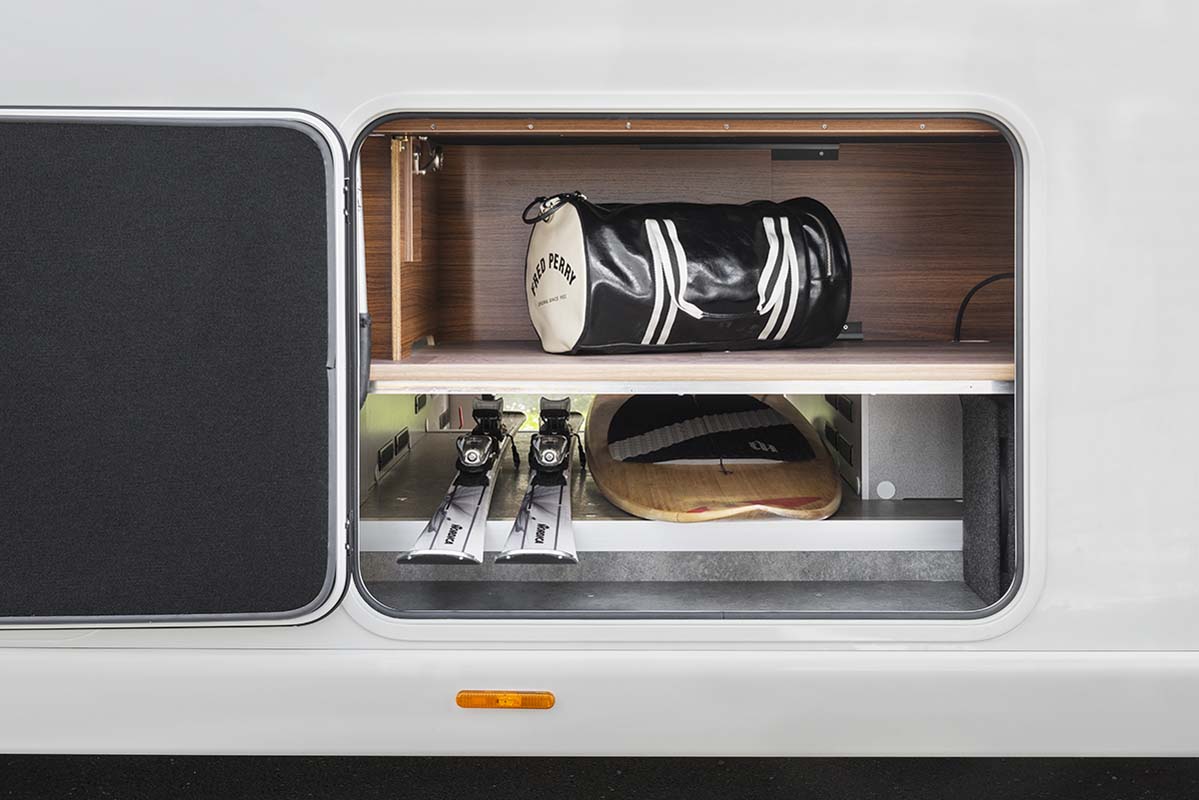 AN EXCEPTIONAL PAYLOAD
Mounted on an IVECO chassis, a Signature vehicle offers you extended storage capacity: a minimum of 1 tonne.
The numerous storage compartments are easy to access, in particular thanks to the double floor. Access the lounge area bench seat luggage compartment from inside or outside.
The spacious dual-side access storage bay, equipped with a pair of stowing rails, allows you to transport a two-wheeler or a quad (on the I8.5GJF). The maximum load in the bay is 600 kg.
UTILITIES AT YOUR FINGERTIPS
WATER
The Signature range offers a 200 L or 300 L fresh water tank (optional) in rigid PVC. In the water service compartment, an overflow tray and a hose extension for jerrycan fills are available. The air gap system enables a fill time of 6.45 min.
The wastewater tank has a 120 L capacity. Draining takes place via a flexible hose with a large air gap, reducing drain time to just 5.10 min. The service compartments are situated in the double floor. The drain valve and the other equipment are therefore protected from freezing.
A macerator toilet with 100 L tank is also available as an option.
ELECTRICITY AND DIESEL
Everything is centralised for easy access to the electrical panel, the battery and the 230 V socket. Located under the refrigerator compartment, access to the electrical service panel is accessible from the outside.
The 230 V connection is provided via a passage in the floor, advantageous in practical terms and offering improved insulation.
New: the By-pass is a fuse reset system (provided as standard) for the motorhome's essential functions: heating, water pump, LED lighting, refrigerator, 12V and USB, front windscreen roller blinds and step.
The diesel tank has a 90 L capacity; more capacity is available as an option.
EXTENDED BATTERY LIFE
Optionally, you can take advantage of the Super B battery. With this lithium battery, time between charges is increased. Thanks to its quick recharge (2h driving for a full recharge), the battery allows you reduce your dependence on the 230 V.